Get Longer, Fuller and Darker Eyelashes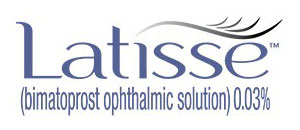 Many women want eyelashes that are longer, fuller and darker. Until recently, the only solution to this problem was costly, inconvenient and sometimes dangerous eyelash extensions. Latisse is an FDA-approved prescription product designed to deliver more visible, longer lashes.
What is Latisse?
Latisse is a topical solution proven to promote the growth of fuller, longer, darker, and thicker eyelashes. Our Latisse patients are typically unhappy with the appearance of eyelashes that are too thin and/or short. For those who suffer from hypotrichosis, a condition associated with inadequate eyelashes, Latisse has been successful at growing new and stronger lashes. Latisse is the first-ever FDA approved eyelash treatment that keeps the eyelashes in their growing phase and increases the number of hairs for as long as it is being used.
How Does Latisse Work?
Latisse is applied daily along the upper eyelids only. It generally lasts up to 30 days if used as recommended. Sterile, one-time-use applicators are provided with the product for patient convenience. Latisse results can be seen within the first four to six weeks, eyelashes will continue to grow for the next eight weeks. In clinical studies, 78% of patients experienced a significant increase in overall lash prominence.
Our top priority is the safety and well-being of our patients. If interested in Latisse, we will bring you in for a full eye health exam prior to filling a prescription.
The eyelash-enhancing results of Latisse occur gradually over the 16 weeks:
At Week 0: Self-treatment treatment begins. No results will be visible during this phase.
At Week 4: Increased eyelash length may start to appear.
At Week 8: Most Latisse users begin to notice increased fullness and darkness, in addition to the boosted length.
At Week 12: Enhanced eyelashes are more visible.
At Week 16: The full, dramatic results of Latisse are present.
Request Your Appointment Today!
To request your appointment, please call (847) 824-3127 or contact us online today!
---
Our Location
The Midwest Center for Sight
8901 West Golf Road, Suite 300
Des Plaines, IL 60016
Phone: (847) 824-3127
Serving Des Plaines, Park Ridge, Mt. Prospect and surrounding communities.