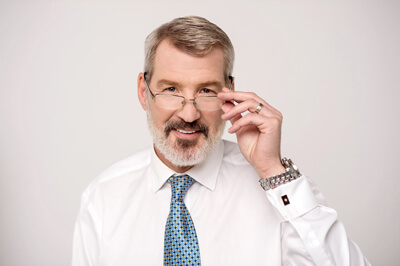 All of the surgeons at the Midwest Center for Sight are certified to provide AcrySof ReSTOR, a breakthrough intraocular lens implant (IOL) that is designed to replace cataracts and correct presbyopia at the same time. Presbyopia is the primary reason many patients need reading glasses as their eyes age. The goal of these lenses is to provide clear vision near, far, and everywhere in between. In fact, a large number of our ReSTOR patients report never wearing glasses after receiving these IOLs.
SIGHT CHANGING, LIFE CHANGING
Cataract surgery with the AcrySof® IQ ReSTOR® +3.0 Lens enables most people to see near, far, and everywhere in between. Having such improved eyesight immediately multiplies the possibilities in your life.
Passengers could become drivers again. Golfers could keep their eye on the ball and enjoy the surrounding scenery. Family celebrations, reading special birthday cards, looking at the sunset, or seeing everyone's happy faces — none of those moments will have to be missed.
How does the AcrySof ReSTOR lens differ from other IOLs?
The AcrySof ReSTOR lens is a multifocal IOL. Traditional IOLs are monofocal. As the name implies, monofocal lenses can only give you clear distance vision, which means reading glasses are still needed. With the ReSTOR multifocal implant, you will be independent of any glasses or contact lenses.
Why Choose the AcrySof IQ ReSTOR +3.0 Lens?
Most AcrySof IQ ReSTOR +3.0 IOL patients find that they can read a book, work on a computer, play sports, and drive a car—day or night—with increased freedom from glasses.
The AcrySof IOLs are produced by Alcon, the world leader in lenses for cataract surgery.
Alcon's AcrySof IQ Family of Lenses is the most widely used brand for cataract surgery.
More than 100 million AcrySof IOLs have been implanted worldwide.
What Can I Expect Following Cataract Surgery?
Most patients typically return home on the same day as their surgery. Your doctor may prescribe eye drops for you to use following cataract surgery. For a few days, you may need to wear an eye patch to keep irritants away. Most patients see well enough to return to most of their routine activities within a few days of recovery.
Like any surgical procedure, however, there can be complications or side effects with cataract surgery—be sure to discuss the risks and benefits with your doctor, so you can make an informed decision about surgery.