OUR EXPERIENCED LASIK SURGEON DR. JAMES KATZ IS ONE OF THE LEADING DOCTORS IN REFRACTIVE SURGERY. HE KNOWS THAT BY CORRECTING YOUR SIGHT, HE CAN IMPROVE MORE THAN YOUR VISION. HE CAN ENHANCE YOUR ENJOYMENT OF LIFE AND THE ACTIVITIES YOU LOVE. FROM YOUR FIRST VISIT IN OUR DES PLAINES LASIK EYE SURGERY CENTER, YOU WILL SEE HIS COMMITMENT TO TOTAL PATIENT CARE AND HAPPINESS.
What is LASIK Surgery?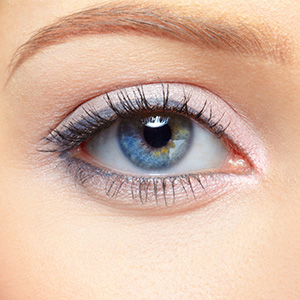 LASIK is short for laser in-situ keratomileusis. LASIK is a corrective vision surgery used to improve eye function and reduce the need for glasses and contacts by altering the shape of the cornea.
How Does LASIK Surgery Work?
Dr. James Katz uses VISX CustomVue technology to ensure the best results for his patients. Glasses and contact lenses are limited in their ability to correct unique imperfections in each individual's vision. In fact, thousands of individuals have the same prescription. This new level of measurement uses CustomVue and WaveScan® technology to provide 25 times more precision than standard measurements for glasses or contact lenses. With the CustomVue procedure, no two "prescriptions" are identical.
After the WaveScan® is complete, Dr. James Katz uses a laser of ultraviolet light to precisely reshape the inner layers of the cornea. The reshaping can correct nearsightedness, farsightedness, and astigmatic conditions.
The goal of LASIK is to reach your personal best vision. In an FDA study using The CustomVue WaveScan® technique, 100% of participants could pass a driving test without glasses or contact lenses, and 98% of participants could see 20/20 or better. 20/20 is the current standard for excellence in vision.
The entire LASIK procedure takes just 10 minutes on average and is performed under local anesthesia in our Des Plaines, IL eye clinic.
LASIK Surgery Recovery
One of the major advantages of LASIK corrective eye surgery is the relatively short recovery period. Most recovery occurs in the first 24 hours after the initial procedure. During this period of LASIK recovery, it's normal to expect some blurriness, dryness, and red eyes.
After that period, however, most people report having noticeably improved vision and no serious side effects. The day after surgery, a follow-up eye evaluation is needed to ensure the surgery has worked correctly. Similar follow-up appointments are typically recommended throughout the first 6 months after surgery.
WaveScan® / Visx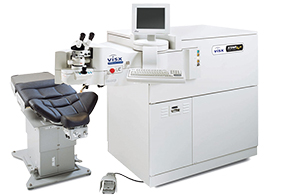 WaveScan® Technology was originally developed for use in high-powered telescopes to reduce distortions when viewing distant objects in space. This technology has now been applied to laser vision correction, measuring imperfections in the eye never before measured using standard methods for glasses and contact lenses. WaveScan®-based digital technology identifies and measures imperfections in your eyes 25 times more precisely than standard methods. In addition, WaveScan® digital information is transferred to the laser, driving a new level of precision and accuracy.
Until now, eye doctors were forced to practice one-size-fits-all vision. An off-the-shelf lens can correct your vision fairly well, but it does not correct it precisely. Now, with WaveScan® technology, your eye doctor can custom-tailor a correction for the unique characteristics of your vision.
Other Refractive Surgeries
FOR INDIVIDUALS WHO ARE NOT CANDIDATES FOR LASIK SURGERY, THERE ARE OTHER REFRACTIVE SURGERIES AVAILABLE AT OUR DES PLAINES EYE CENTER.
Photo-Refractive Keratectomy (PRK) and Laser In-Situ Keratomileusis (LASIK)
Photo-Refractive Keratectomy (PRK) and Laser In-Situ Keratomileusis (LASIK) are both commonly used today to treat low to high levels of nearsightedness, farsightedness, and astigmatism. Over one million of these Excimer laser procedures are performed every year with minimal complications and side effects. The primary difference between the two procedures is that PRK treats the surface of the cornea while LASIK treats the inner tissue of the cornea. This requires the surgeon to make a protective flap, which is folded back while the laser is applied. LASIK has become the more popular of the two procedures because of removing tissue under the protective flap make LASIK virtually painless and speeds up the healing time. Most people having LASIK see well enough to drive without glasses or contacts the very next day.
Astigmatic Keratotomy
Astigmatic Keratotomy or AK uses incisions to correct mild to moderate amounts of astigmatism. By placing incisions on a specific area of the cornea, Dr. James Katz can relax the cornea to a more well-rounded shape. For individuals with a low prescription, AK may be used to help vision affected by astigmatism.
Refractive Lens Exchange
Refractive lens exchange is similar to cataract surgery. As we age, the lens inside the eye loses its ability to focus both near and far. Just as in cataract surgery, refractive lens exchange involves removing the eye's natural lens and replacing it with an artificial lens specific to your prescription.
Phakic IOLs
Phakic IOLs are intra-ocular lenses that are placed inside the eye, in front of the eye's lens; this allows the lens to continue its role of helping the eye focus both near and far. The Phakic IOL is made to work alongside your natural crystalline lens. Phakic IOLs require no maintenance and cannot be felt once they are placed in the eye. The procedure is done with local anesthesia and only takes 15 to 30 minutes.
View a patient seminar presentation about Phakic IOLs (PDF).
Intacs™
Intacs™ micro-thin inserts were introduced in the late 1990s for the treatment of low to moderate levels of nearsightedness. When the Intacs™ are placed between layers of the cornea, the central cornea flattens, thereby changing the focusing power and correcting nearsightedness. Intacs™ leaves the central zone of the eye untouched and has the unique advantage of being removable should your vision change.
Which of These Procedures is Right for You?
It is likely that one or more than one of these procedures would reduce or eliminate your dependence on glasses or contact lenses. However, every eye is different and individuals have different needs. Your first step is to have a thorough eye exam to determine the health of your eyes. Together, you and Dr. James Katz will determine which option is best suited for your eye condition and lifestyle.
Request Your Appointment Today!
To request your appointment, please call (847) 824-3127 or contact us online today!
---
Our Location
The Midwest Center for Sight
8901 West Golf Road, Suite 300
Des Plaines, IL 60016
Phone: (847) 824-3127
Serving Des Plaines, Park Ridge, Mt. Prospect and surrounding communities.